Boutique and picturesque Hunter Valley accommodation
Visit us & find out more
27 Rows on Hermitage offers 4 Boutique Self-contained one and two bedroomed vineyard cottages set on 25 acres of private rural land that includes a hobby vineyard.
On Hermitage
Located in the heart of the Hunter Valley Wine Country on the popular Hermitage Road Food and Wine Trail, 27 Rows is an idyllic accommodation spot to relax and enjoy your surroundings.
Close to local vineyards and restaurants 27 Rows on Hermitage is the perfect getaway.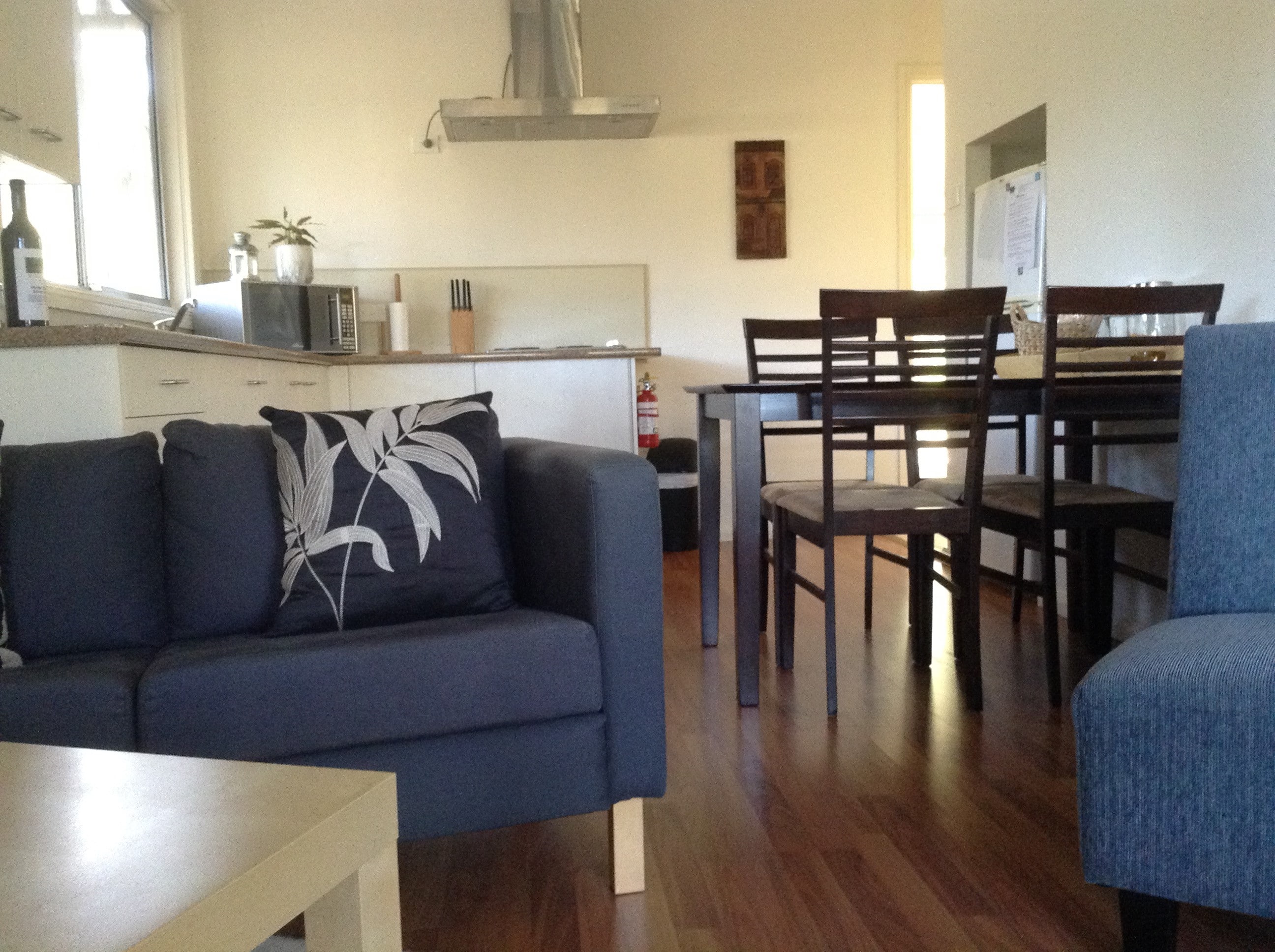 Wisteria Cottage
Comfortable, tastefully decorated cottage for 4 guests
Open-plan living, dining and kitchen divide the bedrooms. At the cottage entrance is a patio and deck area complete with gas BBQ and outdoor dining facilities.
Wisteria Cottage
Relax with a local vintage and enjoy the view
A verandah opening from the king bedroom overlooks the dam and bushland which is an alternative spot for meals or just to relax with a glass of wine.
Wisteria Cottage
King size comfort that can be changed to fit your needs
One king bedroom can convert into twin share with ensuite and enough room for a cot which can be supplied,
Lilly Pilly
A modern, spacious wheelchair accessible cottage
A large 3×9 metre gated deck overlooks the dam and the natural bushland.  It's a great spot for breakfast with your own private gas BBQ. The cottage is accessible by wheelchair in accordance with standards [AS1428].
Lilly Pilly
Large tastefully appointed king bedroom
One king bedroom which can be converted into twin share. The spacious cottage has a large ensuite shower and generous sized built-in wardrobe suitable for long stays.
Lilly Pilly
Open plan living and dining
Open-plan living, dining and kitchen with opening on to the deck with gas BBQ and out door dining
Vines1
Open plan living and dining
Open-plan living, dining and kitchen with beautiful views of the vines
Vines2
Open plan living and dining
Open-plan living, dining and kitchen with beautiful views of the vines
Brand new spa suite for relaxation and comfort.
Brand new spa suite for relaxation and comfort.
Emma
June 2022

/ The Vines 1
The accommodation was great! A really nice spacious room. Tanya has thought of it all, breakfast supplied, wine - even dog toys if you pick to bring your pup. Bed was really comfy and more than enough blankets if you need it.
Laura
May 2022

/ The Vines 2
Very comfortable stay. Extra goods and amenities were supplied with breakfast being a special treat. Lot's of beautiful Vineyards and restaurants to explore and close to Broke Rd. We enjoyed our stay at 27 Row.
Sarah
May 2022

/ Wisteria Cottage
Wisteria is an amazing place to stay. The rooms are perfect with your own bathrooms and beautiful views. The views from the balconies are amazing and really help you relax and just take it all in. I would highly recommend Wisteria for anyone looking for a relaxing weekend away. The location is perfect and not far from any of the wineries and restaurants. We can't wait to be able to stay again.
Simone
April 2022

/ Lilly Pilly Cottage
Everything you want and more! We loved our stay, Lilly Pilly Cottage was spacious and had everything we needed. The breakfast was great and the wine was lovely. We really enjoyed our evenings with wine and cheese out the deck listening to the native wildlife (we even had Kangaroos). The cottage was well set up for our pooch with a gate and fence that meant he was contained and not wandering off exploring. It was just a short walk to Piggs Peak and Tintilla Vineyards that were dog friendly and a great way to end the day with no need for a designated driver. We had a thoroughly relaxing weekend and look forward to visiting again soon.
Tara
March 2022

/ The Vines 2
The place is beautiful and having a view on the vines made it even more special. The bed was comfortable, my partner and I had the best night sleep in it. The spa bath was awesome, we didn't want to get out. We will definitely be back to stay at your property again.
Jessica
March 2022

/ The Vines 1
It was a great little cottage overlooking the vineyard and a convenient location. We brought our dogs and they had a great time! Kitchen was well equipped, and place was clean.
Frank & Shane
March 2022

/ The Vines 2
Second time staying at 27 Rows. Great property with the perfect location. We also love that's it dog friendly with a secure balcony. Thanks Tanya.
Samantha
March 2022

/ The Vines 2
The accommodation way exceeded our expectations. I really felt the photos didn't adequately reflect how amazing this place is. Tanya is an amazing host, provided very well for our stay and the surroundings are just so tranquil. I would not hesitate to stay there again.
Perfect little getaway spot for two people. Accommodation is super easy to check in to with everything you need including breakfast for your first morning with eggs, bacon, bread and orange juice! Tanya is super helpful with tips and recommendations for the area which are spot on. House itself is surrounded by woods and is tucked away at the end of the driveway with lots of privacy. Highly recommend to anyone visiting the Hunter Valley!
Ashleigh
February 2022

/ The Vines 1
Fantastic location. Very clean and tidy cottage with lovely amenities. Breakfast provisions were fresh & delicious. Beautiful grounds to walk through. Felt right at home & didn't want to leave. Thank you for having us, we will certainly be back!